Technical hybrid jacket for hiking and touring
Wind-repellent and breathable due to windprotec technology
Water-repellent, PFC-free finish
Thin wool padding keeps you cosily warm
Partial stretch inserts make for high elasticity and comfort
You set out on your tour early in the morning at the foot of the mountain, and by midday you're at the summit enjoying dreamy views. And the whole time you're wearing your LEINES W jacket – a technical hybrid jacket that keeps you extra warm thanks to its thin layer of natural lavalan® wool padding. For reliable protection against the wind, the jacket features windprotec technology, as well as an adjustable hood with a comfortable chin guard. And the LEINES W is also water-repellant thanks to its PFC-free coating. To ensure you can move freely and easily when touring, we've given the LEINES W an athletic cut and integrated elastic stretch panels in the coloured sections. The jacket's hem is also adjustable to ensure a snug, secure fit. Plus there are practical thumb holes on the cuffs. Two large zip pockets complete the LEINES W.
windprotec: breathable and wind-resistant
Environmentally-friendly, water-repellent, PFC-free finish
Partial stretch inserts for complete freedom of movement
Soft cuffs with convenient thumb holes
Adjustable truncated hood
Underlay with chin guard provides highest level of comfort
2 spacious pockets with zip fastener
Adjustable hem
Sporty cut offer more flexibility
windprotec

Anyone who is outdoors in any weather will know how important effective wind protection is. Windprotec keeps out the wind and the body warm. It protects us from the wind chill effect, which lowers our body temperature. The lightweight fabric also provides comfort as it dries quickly and transports excess moisture and heat to the surface.
outer fabric 1: 100% polyester / outer fabric 2: 40% wool, 35% polyamide, 25% Polypropylen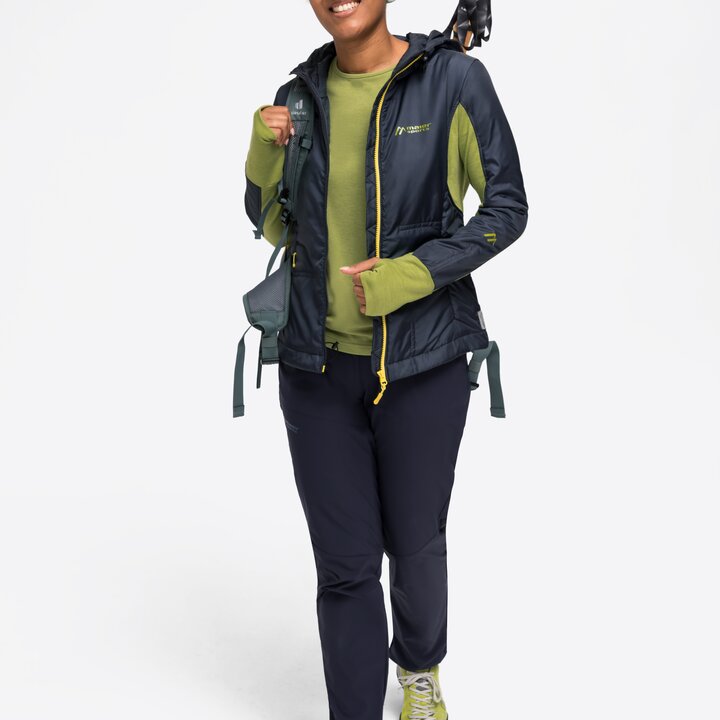 Have you bought this product?