hiking pants

Inara slim zip
hiking pants
Inara slim zip
hiking pants
Comfortable, functional slim fit hiking pants
Can be zipped-off into Bermuda shorts with Zipp-off function
mSTRETCH Pro 4: elasticated material, perfect for hiking
Highly functional, breathable and quick-drying
Water-repellent, environmentally-friendly finish – PFC-free
Your tour begins on a chilly morning and temperatures are expected to reach 30 degrees at the summit cross – so you're looking forward to completing the entire excursion in comfort wearing your INARA SLIM ZIP pants. Because the zip-off version of our popular hiking pants allows you to flexibly alternate between long pants and hiking Bermuda shorts, depending on the weather and vegetation. Their modern slim fit cut and elasticated 4-way stretch fabric are also designed for simplicity, providing maximum freedom of movement while you're out and about. A comfortable waistband including belt loops and belt also ensure that your pants sit comfortably yet securely.
Dryprotec technology makes these INARA SLIM ZIP pants breathable and quick-drying. Thanks to our environmentally friendly PFC-free finish, they are also water-repellent. And when you spend half the day outdoors, the inside security pocket and three practical pockets with zip closures provide space for the items you need on your hike.
mSTRETCH pro 4: 4-way stretch for ideal freedom of movement
Dries especially fast thanks to dryprotec technology
Follows your every move thanks to 4-way stretch
Can be quickly zipped off into Bermuda shorts
4 pockets provide lots of storage
Practical inside security pocket
Slim Fit
Environmentally-friendly, water-repellent, PFC-free finish
mSTRETCH Pro 4

The perfect fabric for all kinds of activities, throughout the year. Super stretch, comfortable, with a perfect fit and plenty of freedom of movement. Our award-winning fabric with a feel-good factor for your outdoor adventures.
Dryprotec

Anyone who takes part in outdoor activities or who is active for extended periods knows how important it is for clothing to dry quickly. Maier Sports dryprotec clothing not only feels very comfortable to wear, it is also quick-drying and easy to care. So there is no uncomfortable cold feeling on the skin.
90% polyamide, 10% elastane
Have you bought this product?
Awards
Purchase tip
Outdoor Magazin, issue 07/16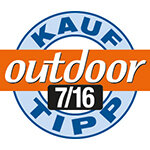 For only 100 Euro you get with these Maier Sports pants a drizzle-proof universal genius for trek, tour, mountains and everyday life.