Versatile midlayer with turtleneck and half-zip
Wonderfully warm, light, breathable and with a feminine cut
Looking for a versatile midlayer jacket for your skiing holiday? Our EVA half-zip turtleneck could be exactly what you need. The jacket has a sporty, feminine cut and it keeps you wonderfully warm despite being light in weight. Meanwhile, the brushed interior is ultra soft against the skin and the seams are so flat that you can barely feel them. We also equipped EVA with our dryprotec technology to make it breathable and quick-drying. Another attractive feature of the midlayer is that it's made from 100% homogeneous material, which can be recycled directly via Maier Sports. It comes with an NFC tag that contains information about the materials so they can be fully recycled.
Dries especially fast thanks to dryprotec technology
Brushed interior keeps you comfortably warm
Cosy, soft fleece keeps you comfortably warm
Partial, barely noticeable flatlock seams
Easy care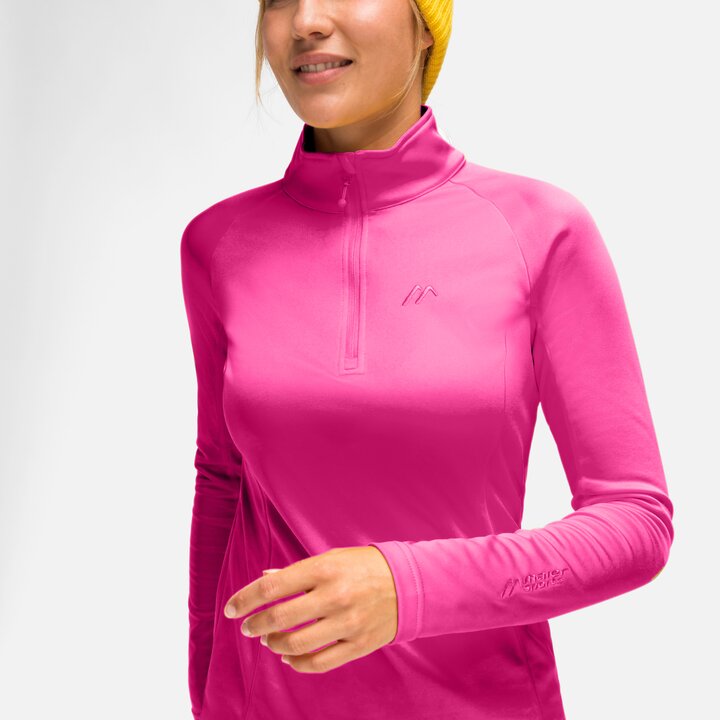 Mein derzeitiger Lieblings-Midlayer. Fühlt sich angenehm auf der Haut an, hält warm und trocknet schnell. Und die orange Farbe ist fantastisch!
My current favorite midlayer. Feels comfortable on the skin, keeps you warm and dries quickly. And the orange color is awesome!
Mein bestes Stück! Total angenehm auf der Haut. Trocknet total schnell und fühlt sich weich und frisch an.
My best piece! Totally comfortable on the skin. Dries really fast and feels soft and fresh.
Have you bought this product?