black/ombre blue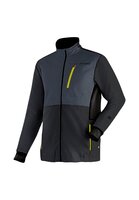 black/ombre blue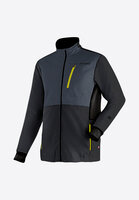 black/ombre blue
Sporty padded jacket for winter adventures
Wind-repellent and breathable due to windprotec technology
Environmentally-friendly, water-repellent, PFC-free finish
High-performance PrimaLoft® insulation to keep you warm
Partial stretch inserts for maximum freedom of movement
Gliding through picturesque winter scenery for mile after mile – and simply embracing the moment. Our ILSETRA M is designed for cross-country ski enthusiasts like you. It has a layer of high-quality PrimaLoft® padding and its heat retention is extremely high despite being so lightweight. Another technical feature of the ILSETRA M is our windprotec technology, which gives this hybrid jacket its particularly windproof front and extremely breathable back. Stretch inserts also ensure that your ILSETRA M follows your every move during your cross-country skiing tours. The hem is adjustable and the cuffs are tight-fitting – to prevent the wind from getting in. This cross-country jacket is rounded off with a PFC-free finish, a flap with a chin guard and three spacious pockets with zips.
Environmentally-friendly, water-repellent, PFC-free finish
windprotec: breathable and wind-resistant
Highly breathable material
Partial stretch inserts for complete freedom of movement
PrimaLoft® optimises volume-to-heat-retention ratio
Tight-fitting elastic cuffs
Underlay with chin guard provides highest level of comfort
3 spacious pockets with zip fastener
Sporty cut offer more flexibility
windprotec

Anyone who is outdoors in any weather will know how important effective wind protection is. Windprotec keeps out the wind and the body warm. It protects us from the wind chill effect, which lowers our body temperature. The lightweight fabric also provides comfort as it dries quickly and transports excess moisture and heat to the surface.
PrimaLoft®

PrimaLoft® Silver Insulation ECO is based on an industrial eco-friendly microfiber that imitates the structure of down and is used in high-quality clothing for cold-weather and all-year-round clothing. It contains 70% recycled PET bottles and offers excellent all-round protection in awide variety of weather conditions.
SILVERPLUS

SILVERPLUS® is an intelligent and innovative way of keeping your textiles fresher for longer. The SILVERPLUS® finish protects your textiles from unpleasant body odours, even at low washing temperatures and inhibits the multiplication of odour-causing bacteria.
outer fabric 1: 100% polyester / outer fabric 2: 85% polyamide, 15% elastane
Have you bought this product?