cross-country-tights

Telfs CC Tight W
black / poppy cosmos
black / poppy cosmos
cross-country-tights
Telfs CC Tight W
cross-country-tights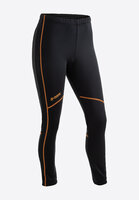 black / poppy cosmos
Sporty Nordic sports tights with a hybrid construction
Windproof front, stretch back for maximum movability
Front made from windproof softshell fabric
High-quality thermal stretch fabric on the back
Water-repellent PFC-free finish
All set for an athletic lap of the cross-country ski trail! If you enjoy the challenge of cross-country skiing and are seeking maximum freedom of movement for skating, then our sporty-cut TELFS CC TIGHT W are ideal for you. Our tights are perfectly suited to Nordic sports down to the smallest detail and have a hybrid construction, with windproof softshell fabric on the front and stretch fabric on the back. Their brushed interior keeps you comfortably warm, depending on how they're worn. They are also suitable for winter running and snowshoe trekking
You're well protected along the way thanks to the windproof, breathable stormprotec technology. The stretch inserts and 2-way stretch fabric ensure complete freedom of movement and additional flexibility. The finish of our TELFS CC TIGHT W is PFC-free, water-repellent and made using a particularly environmentally friendly process. Our tights also have zips and non-slip rubber on the leg hems. The waistband is elastic and comes with an internal drawstring. The tights are rounded off with a small pocket with a concealed zip.
stormprotec: breathable, windproof and water-repellent
Environmentally-friendly, water-repellent, PFC-free finish
Partial stretch inserts for complete freedom of movement
Follows your every move thanks to 4-way stretch
Elastic, flexible material
Brushed interior keeps you comfortably warm
Non-slip rubber in the hem
Zip fasteners on the hem of the leg
Elastic waistband with internal drawstring
1 small pockets with a concealed zip
Sporty cut offer more flexibility
Outer fabric 1: Front: 89% polyester, 11% elastane / Back: 94% polyester, 6% elastane / Outer fabric 2: 85% polyamide, 15% elastane
Have you bought this product?