midlayer jacket

Faxi Jacket W
midlayer jacket
Faxi Jacket W
midlayer jacket
Elasticated 4-way stretch for maximum freedom of movement
dryprotec makes the fabric dry quickly
Keeps you feeling fresh thanks to Silverplus®
Great waisted cut provides for a perfect fit
Environmentally friendly and made of 50 % recycled PES
Whether you need some protection from the cold on a mountain summit or just something warm to wear under your weather jacket, our FAXI JACKET is the perfect midlayer for your outdoor adventures. It's elasticated, breathable and warm, thanks to its honeycomb structure on the interior fleece lining which combines great heat retention with low weight. Meanwhile, dryprotec makes sure the jacket dries quickly in case it gets wet, while Silverplus® combats unpleasant odours, which means you're going to feel fresh for longer. Two spacious pockets provide lots of room for your smartphone or other small items. And the fabric is highly environmentally friendly, as the FAXI JACKET is made of 50 % recycled polyester.
Silverplus® finish provides long-lasting freshness
Dries especially fast thanks to dryprotec technology
Follows your every move thanks to 4-way stretch
Highly breathable material
Made from 50% recycled polyester yarn
Underlay with chin guard provides highest level of comfort
Perfect tapered fit
Easy care
2 spacious pockets with zip fastener
SILVERPLUS

SILVERPLUS® is an intelligent and innovative way of keeping your textiles fresher for longer. The SILVERPLUS® finish protects your textiles from unpleasant body odours, even at low washing temperatures and inhibits the multiplication of odour-causing bacteria.
Dryprotec

Anyone who takes part in outdoor activities or who is active for extended periods knows how important it is for clothing to dry quickly. Maier Sports dryprotec clothing not only feels very comfortable to wear, it is also quick-drying and easy to care. So there is no uncomfortable cold feeling on the skin.
50% polyester (recycled), 46% polyester, 4% elastane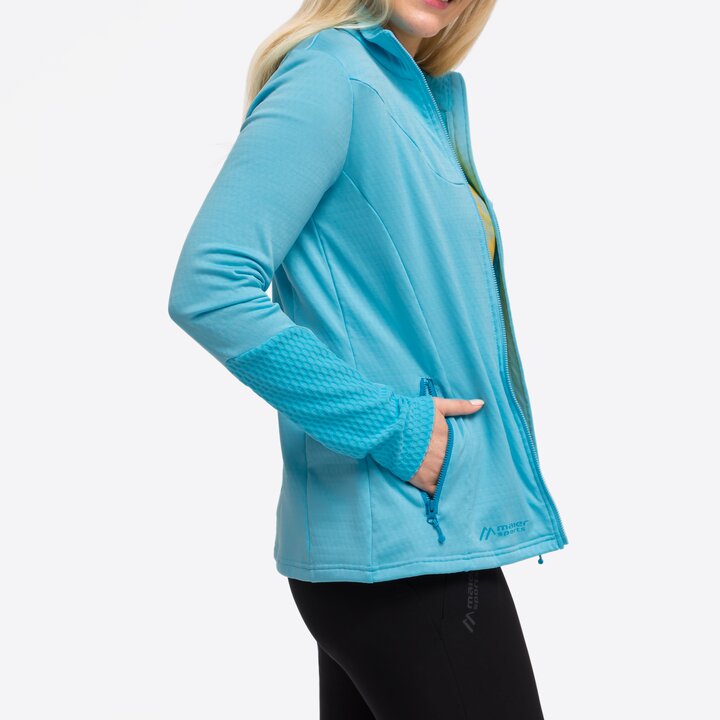 Have you bought this product?